When you think of a supermodel, what kind of woman comes to mind?
She's probably tall and skinny, with toned abs and perky boobs. Her skin is flawless, she has shampoo-commercial hair, and she only wears designer clothes. She's someone that you follow on Instagram for outfit and makeup inspiration, trying to recreate what she has. But at the same time, you're always thinking, "This isn't me. And it never will be."
This isn't the case for the models in Aerie's "Real" campaign.
Aerie is the lingerie line of American Eagle and, like their sister store, they market their products towards young women. They've been making waves in the fashion industry for several years now, ever since they launched their "#AerieREAL" campaign in 2014. The campaign promised no retouching in their ads, a practice that has recently grown in popularity but was unheard of at the time, especially in the lingerie industry.
With this campaign, Aerie took a huge risk. Fortunately for them, it paid off big time; their sales rose by 20% in 2015, and they've only gotten stronger. In fact, they're now one of Victoria's Secret's main competitors.
How could a simple switch of models, from Victoria's Secret Angels to women with curves and disabilities, make such an impact?
Because by making this change, Aerie signaled that they are putting people before profits.
Brands have a tremendous responsibility when it comes to how they use social media. With all the trolls that populate every platform, brands should make sure that their communities are places of positivity and inclusivity.
This should carry over to a brand's advertising, especially when that brand is targeting young, impressionable girls, like Aerie and Victoria's Secret. They have a responsibility to make sure, as much as they can, that their advertising is doing no harm to their consumers. And with young people spending a majority of their time on social media, that seems like a good place to start.
If you had a teenage daughter, would you want her to see a Victoria's Secret ad or one from Aerie? Which one would be better for her mental and physical health?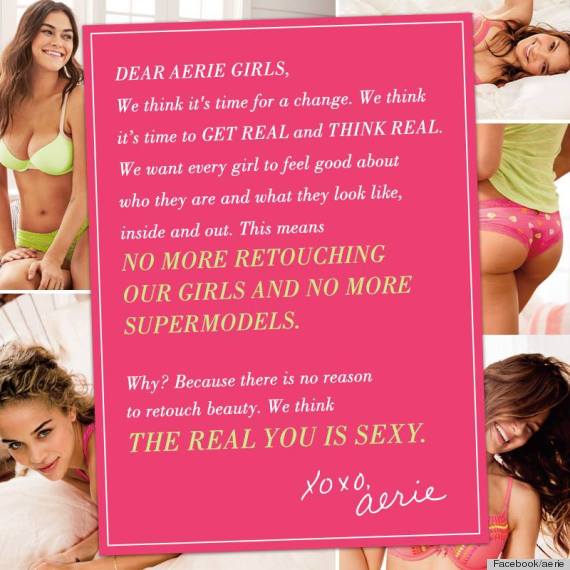 In short, brands should take advantage of social media as a platform to engage in corporate social responsibility.
CSR business models remain important in the fashion industry, especially when it comes to the issue of celebrating diverse body types, not just a few lucky supermodels who won the genetics lottery. This is particularly important when it comes to social media marketing, because social media is where brands grow their communities and truly connect with their customers. It's an amazing platform for brands to affirm their commitment to a CSR model and champion important issues that resonate within their industries and with their consumers.
Who do you think is really making a difference and working to connect with their customer base in a meaningful way? Aerie or Victoria's Secret?
What examples of corporate social responsibility have you seen on social media? Comment with your favorite examples and links to their campaigns! I'd love to feature them in a future CSR spotlight article!