If you search, "how to meal plan," on Google, you'll get over 27 million results. So, why is this guide any different?
Because I'm a girl on a budget, with limited time, patience, and fridge/freezer space. I love cooking, but I'm always at work or class, meaning that it's tempting to pop by Taco Bell or order pizza to save myself time. But my bank account strongly advises against that idea, so I've had to learn how to get creative with the funds and materials available to me.
Here are my four tips to being successful at meal planning. Which basically means being a successful adult.
1. Pick a 'meal prep time' and stick to it
Take out your planner and see when you regularly have free time. Do you devote your Sunday afternoons to watching football? While you're cheering on your team, start prepping your meals for the week. This can be as simple as making up your lunches, bagging snacks to keep on hand at work, and ensuring you've got meat set out to thaw in your fridge.
2. The grocery store ad is your best friend
When you're eating on a budget, one of the easiest ways to save money is to plan your meals around the grocery store sales.
Chicken breasts are on sale? There's your main protein for the week. Strawberries in season now? Buy a couple pints and use them for smoothies, salads, and to add with some oatmeal and yogurt for a breakfast parfait.
Just remember that even if something is on sale, you aren't obligated to buy it. Only buy what you know you have space for and that you'll eat. Otherwise, you're wasting your hard-earned cash.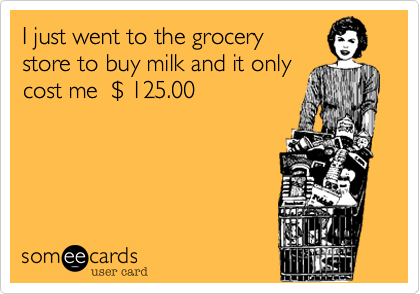 3. Use the same ingredients in multiple dishes
This goes hand-in-hand with the above tip. When planning your meals, try to limit yourself to the same one or two proteins for the week. I prefer chicken and beef, myself, since they're so versatile. I also like to add salads, sandwiches, and pasta to my dinner rotation, to mix things up.
If you're convinced you need to use 5 different proteins every week, consider this scenario. Let's say rotisserie chicken is on sale, so you pick one up. Then, you get home and after eating your fill, you realize that there's still enough left for a couple more meals. But you don't want to eat plain old rotisserie chicken, so you might as well just toss the bird, right?
Wrong. You can make dozens of dishes with that leftover chicken. Some of the ideas that come to mind are:
Chicken salad (either the mayo-based kind or the actual salad kind)
Fettucine alfredo with chicken
Shredded chicken tacos
BBQ chicken sandwiches
Chicken pot pie
Chicken noodle soup
Buffalo chicken pizza
See? When you're looking to save money, re-purposing ingredients and leftovers is one of the best things you can do.
4. Jot down meal ideas as they occur to you
Did your coworker bring in an amazing salmon and rice dish that made you start drooling at your desk? Were you inspired by a dish that you saw on last night's Chopped?
Whenever a meal idea pops into your head, make a note of it. That way, when you're planning your menu for the week, you're not using the same tired recipes over and over. Variety is the spice of life, after all.
What meal planning tip are you going to try out this week?